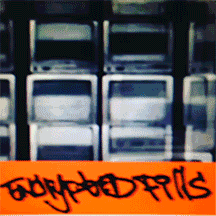 ENCRYPTED FILLS
Encrypted Fills is a collaborative project created by RJ Rushmore and Ryan Seslow.
We have been watching for years (and Ryan's been participating as an artist himself) as people in the street art and graffiti world have turned to experimenting with new mediums like GIFs, video art, and related forms of electronic documentation to express their ideas on digital platforms. Sometimes the aesthetics of the work are nearly indistinguishable from static street pieces, and other times these digital works are hardly recognizable as related to street art or graffiti, but we believe that these new works come from the same place. Artists who have been getting up outdoors are now reaching out to a similar digital public, and it's opened the door for those artists to reach beyond static images.
We are very excited about this development. We want to promote this work and identify it as something particular and distinct from other art being produced in the street art and graffiti communities, and we also want to preserve the best examples of it for posterity, lest in the future we think of these works as standard and forget the artistic leaps that were made in the last few years and those that will be made in the years to come.
Works will be organized by exhibition and category as stated above. Exhibition time lines will vary, but all of the works presented here will be archived for the site.